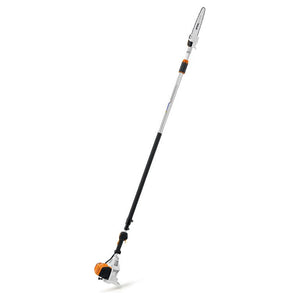 Pole pruner with an ideal power to weight ratio for powerful cutting work in orchards and professional tree maintenance. Lightweight, compact transmission with captive nut on the sprocket cover, maximum cutting performance due to the 1/4" PM3 saw chain, 4-MIX® engine with simplified start system. Highly ergonomic and very stable due to the reduced weight of the square-cut telescopic shaft. Total length: 270 – 390 cm.
£50.00 deposit charge on all hires.
Collection and delivery available - chargeable.